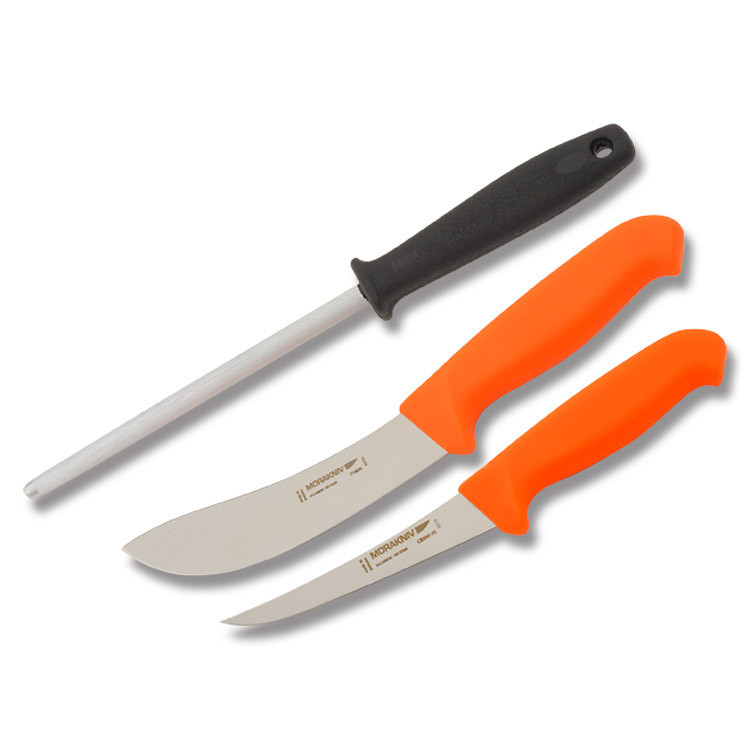 MORAKNIV 12098 HUNTING SET 2 KNIVES + SHARPENING STEEL - ORANGE
When working with your game and need the best tools available - just to take out the Hunting set. Our sharp knives makes your job easy, and when you need to resharpen the blades it's just to use the sharpening steel.
Our Hunting Set includes two knives and a sharpening steel, delivered in a practical and durable container. The knives have ergonomically designed handles with a patterned high-friction grip, finger protection and blade of Swedish cold-rolled stainless steel. This allows you to work with both power and precision. Blade lengths are 132 and 145 mm, and the sword of the sharpening steel is 168 mm.
CONSTRUCTION
NET WEIGHT - 480 g
PRODUCT LENGTH - mm
GROSS WEIGHT - 630 g
PRODUCT WIDTH - mm
BLADE THICKNESS - mm
KNIFE LENGTH - mm
BLADE LENGTH - mm
MATERIAL
BLADE MATERIAL -

Rostfritt stål

HANDLE MATERIAL -

Polymer

SHEATH - Orange

SHEATH COLOR - Black

HANDLE COLOR -

Orange | Svart
Kindly Visit Our Outlet for purchase and more product information.
---