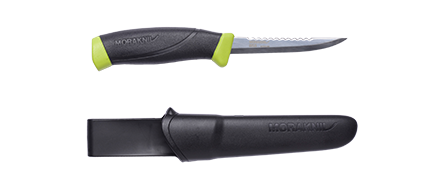 MORAKNIV 12208 FISHING COMFORT SCALER 098 STAINLESS STEEL KNIFE
This model is perfect for your fishing trip so you can descale your catch of the day with ease. The short blade is simple to work with, while the convenient size and knife cover make it easy to keep in your rucksack or belt. You just need to cast off and wait for a bite.
Short fishing knife with a toothed spine for descaling, and a blade made of cold rolled, Swedish, special stainless steel. The combination of the blade and the rubber handle makes this an optimal knife for fishing when you need to be able to work safely and efficiently in damp environments. The patterned friction grip made of TPE rubber reduces the risk of slipping if your hands are wet. What's more, rubber doesn't conduct cold making the knife convenient to work with all year round.
CONSTRUCTION
NET WEIGHT - 104 g
PRODUCT LENGTH - mm
GROSS WEIGHT - 174 g
PRODUCT WIDTH - mm
BLADE THICKNESS - 2 mm
KNIFE LENGTH - 213 mm
BLADE LENGTH - 98 mm
MATERIAL
BLADE MATERIAL - Stainless steel
HANDLE MATERIAL - TPE rubber
SHEATH - Polymer
SHEATH COLOR - Black
HANDLE COLOR - Black
Kindly Visit Our Outlet for purchase and more product information.
---